It is the first week of December and all of my Christmas shopping is done. I am not going to lie, I have been feeling pretty good about myself with this one. To make it even better, when I looked through the Christmas bins to get out the decorations I found an entire bin full of stocking presents I had bought during the week after Christmas clearance sales last year! WHAT?!?! How smart was I?!
I did not envision this forethought and efficiency coming with any complications. Except that it has. Now, I realize, I have to not spend anymore money on presents for the next twenty days. No matter how many that-would-be-perfect-for deals I see. And so to help me with this impulse control, I have started shopping for the readers in your home. Since I am already done with my shopping, none of my kids will be getting any of these things but your kids; your kids could have it all!
Here are twenty perfect gifts for the young reader in your life:
Book light – After looking at entirely too many book lights, I am going to give this one a try. This is perfect for your night owl and when the kids want to read in the car but it is already dark at 2:13 pm!

Magazine Subscription – There are several that are literary in nature. These expose kids to different kinds of literature, like short stories, poems, and non-fiction content. I recommend Top Secret Adventures by Highlights Magazine, which is kind of like a literary "Where in the World is Carmen Sandiego?" and Cricket magazine, with its eleven different off-shoots, it has been dubbed "The New Yorker" for kids.

Post Its – Every reader knows the importance of annotation. Here is your perfect chance to teach them this exciting and essential past time. Post Its are a guaranteed hit, with their half sticker, half note pad self, also they are very cheap (as presents go). I am partial to the book dart size post its, but to each their own (unless you like something else, in which case, you are wrong).

Reading Logs and Journals –  These are the perfect gift for your book lover. They are books. That you write in. Yep. You can pick from any number of the bajillion blank journals out there, like these. If you are looking for something more like a reading log, two I have seen recommended for kids are the Bookworm Journal and My Reading Adventure Journal.

Framed Book Covers – I first saw this brilliant idea in a good friend of mine's kids' bedrooms. She took their favorite books and framed the book covers! I love, love, love this idea! It is such a cool, personal, creative, and, as an added bonus, inexpensive gift.
Framed Book Quotes – I got going with the wall hangings and now I just can't stop. But again, this can be a very personalized gift. Those are always the best gifts. You can, of course, go the ultra fancy lithograph route or you can fall down the Pinterest rabbit hole and make your own.
Bookmarks – Please, let us give these children some bookmarks. I need my random receipts, socks, game cards, etc back for my book marking use. Fortunately for us, BookRiot just compiled a list of 50 FREE printable bookmarks. Some of these I will be gifting to myself this year.
Book Shelf – It is a book lovers dream to have book shelves all your own to arrange (and rearrange and rearrange again) in whichever way pleases you most. This is a joy your child should know.
Apparel – From socks to T-shirts to onesies, there are some very creative and fantastic options out there. While this will not be your cheapest route, gift wise, choose wisely and this will be a favorite.

Library Stamp – I am partial to the embossers because stamps have to dry and children have no patience. Anything that removes the ink of any given scenario is alright by me. You can find places that will do this on Etsy that may be a bit cheaper.
Book Related Toys – The beauty of this option is that it is open to wild speculation. For example, while this taco holder is neither a toy nor directly related to Dragons Love Tacos, it must be gifted to the child (or adult) who reads that book again and again. If speculation is not your thing, rest assured there are a limitless number of options directly related to books, all ages: babies, younger kids, and older ones too.

Ornaments -This would be a fantastic way to document your child's favorite book that year. Recycle book covers or pictures from old favorites and turn them into ornaments. I have no idea how…but I have heard there is a site for that (lookin' at you, Pinterest). You can also just buy beauties like this or this.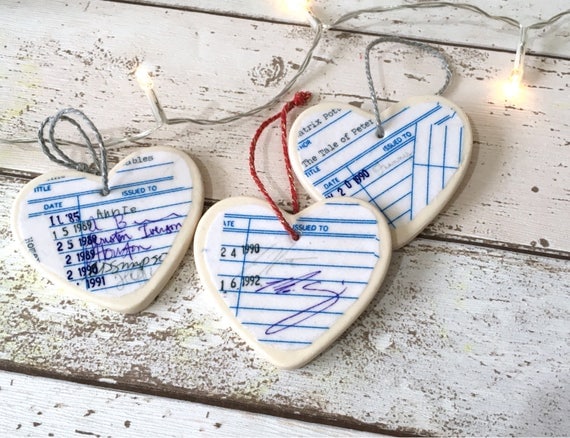 Jewelry – Earrings and necklaces galore. Etsy and Bookish Gifts are two excellent places to find uncommon treasures.
Games and Puzzles – The Very Hungry Caterpillar Game is a favorite in our house. Or, once again, you can do it yourself! Puzzles are a difficult thing, with the losing of the pieces, the fighting over how the puzzling process is done (free-for-all versus edge pieces first), and the quarantined off space required to accommodate a work in progress. However, all of that aside, if your kids are older, puzzles can be awesome. Like this one.

Totes – All those books have to go where they go somehow (unless you want to carry them)! As in all things, these range from simple, like the $1 section of Target that often has Dr. Seuss themed totes, to the elaborate, like these.
Pencil Cases – I realize that $12 for a pencil case is a bit much, but just have a look!

Magnetic Character scenes – Mudpuppy.com has options for both Good Night, Good Night Construction Site and Eric Carle books.

Lap Trays – I love these ones that you can find at Michael's. They do not take up too much room on the couch or, more importantly, in the car. These specific ones fit over the arms of booster seats, so even my younger kids are able to use them. It gives them somewhere to store their books and then a level surface to read on.
Gift Cards – You love buying your own books, chances are, so would they!
Phew! Now you are done Christmas shopping, too!